Altima owners have a dangerous problem lurking beneath their feet. The 3rd generation (2002-06) sedan has floorboards that seem particularly susceptible to corrosion. The result? Widespread rust that's often concealed by the interior carpet until it's too late and the floorboards crumble to reveal gaping holes.
Dude, Where's My Floorboard?
Rusted floorboards can happen in any vehicle, but the issue is rampant in a handful of Altima model years (2002-2006).
The floorboard in these vehicles is concave, allowing moisture to accumulate without proper drainage. A metal cross-member isolates the concave area from the carpeted foot well, leaving a gap and allegedly reducing the likelihood that any moisture could be wicked away by the carpet.
Nearly all complaints about the floorboards disappear starting with the 2007 Altima (4th gen), hinting at a redesign.
In the case of Laura Frances Hays, et. al., v. Nissan North America, Inc, et. al. it's pointed out that competitors don't seem to have this problem.
"For example, 2002 Volkswagen Golfs have multiple layered floorboards that also have floor pan holes. But unlike the Nissan cars, these holes are sealed with plastic plugs that are mechanically attached with waterproof adhesive. This plug seals the floor pan hole from both the top and bottom, preventing moisture from entering and accumulating."
It should be noted, there are a handful of similar complaints in the 2002-2006 Maxima but not nearly to the same extent.
Owners often don't know until it's too late
Because the problem is concealed by the interior carpet, it's not uncommon for Altima owners to go in for an oil change and come out with a quote for a new floorboard.
"Took it in for oil change and was told both front floor pans are rusted out. Was told by mechanic he thought they had recall on them. Contacted dealership and was told no such recall. Nothing they will do." – 2005 Altima owner in IL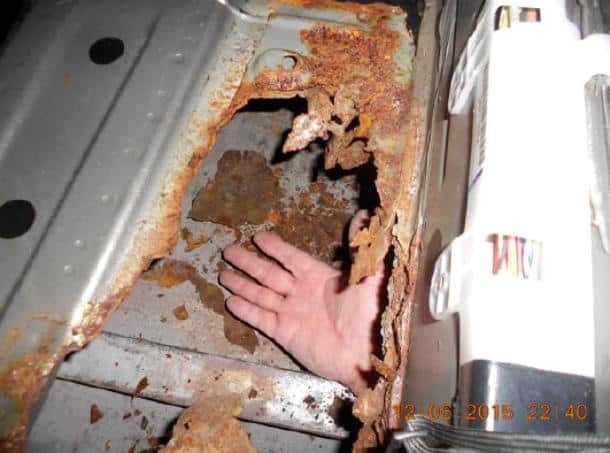 The repair can cost more than the car is worth
A full repair of the problem can cost over $4,000. That's That's almost 150% the $2,669 private party value given to a 2005 Altima1 that's in good condition on KBB.com. So that's really not an option.
A patch job that covers the rusted floor pan with sheet metal will cost closer to $4002, but that's just a temporary fix until the rust spreads.
It's even worse in the "salt belt"
The problem can be worse for owners in the "salt belt" which is a group of cold-weather states that use a heavy dose of road salt to clear ice in the winter.
Snow (sometimes with salt in it) on boots melts on top of the floorboard, while salt attacks the metal from underneath. It's a perfect-storm of corrosion.
It's worth mentioning, however, that this problem isn't limited to cold weather areas. There are plenty of complaints from owners where the only salt they need is to season their brisket.
Nissan Knows, But Do They Care?
Nissan doesn't deny the problem, but they adamantly reject the notion that this is a safety defect and have no plans of offering an extended warranty.
And yes, it's not unusual to see metal corrosion on a 15-year-old car. However, this isn't just a little rust we're talking about.
A technical service bulletin (TSB) for floor pan repair
Nissan issued a (TSB) regarding the corrosion problem and, additionally, sent dealerships an Altima floor pan repair kit bulletin which talks about the "new, low-cost repair for floor pan corrosion."
The TSB instructs dealers to clean the rusted area and use adhesive to install a "repair plate" that covers the holes. It does not, however, tell dealers to remove the rusted area.
Rusted Floorboard Lawsuits
These vehicles often can't pass state inspections without being repaired. The repairs are expensive, but without it the cars have little to no resale value.
With no recall on the horizon, owners have taken their grievances to court.
Marie DeMaria v. Nissan North America, Nissan Motor Company, LTD.
The first class-action lawsuit calling out Nissan for rusted floorboards was filed in 2015 in the Northern District of Illinois.
Arguing against Nissan's claim that this isn't a safety defect, the lawsuit makes note:
These hidden rust holes can allow dangerous exhaust fumes and road debris into the car.
A corroded floor pan can allow fire to enter the floor area when normally the area would have some protection.
In an accident where the car enters water, it would sink much faster than before.
At least one person has been injured as a result of the defect, while hundreds say they're afraid to drive their cars.
Nissan was awarded a motion to dismiss the case in September 2015.
Laura Frances Hays, et. al., v. Nissan North America, Inc, et. al.
A second class-action was filed in November 2017, covering all 2002-2006 Altima owners in Missouri.
"Plaintiff Laura Frances Hays says she purchased her 2003 Nissan Altima new in 2003 and always kept it in a garage at work and at home. In 2015 an inspection found rust under the front passenger floorboard (photo above), so she got an estimate for repairs from a body shop. Hays says she was told the job would cost at least $4,000 and possibly $5,000 by the time the work was complete."
Hays opted for a "patch job" that cost $459 and submitted both repair quotes to Nissan corporate. The automaker refused to cover the repairs.
The lawsuit wants financial compensation for floorboard repairs because even with the "Altima floor pan repair kit bulletin", owners are still be on the hook for roughly $500, even though materials cost $111.57.
Nissan is not impressed with the plaintiff's arguments. In December 2018 they asked the judge to toss out the case because 1) the "patch job" was done 7 years after the corroson warranty expired and 2) the plaintiff sold the car to another private party claiming it was in "good" condition a year before the lawsuit was filed.
---