Coolant Leaks are Destroying Nissan Transmissions
Posted on

Tagged
Key Points
Widespread transmission failure in 2005-2010 Nissan SUVs and trucks can be traced to coolant leaks from busted radiators.
The leaked coolant mixes with transmission fluid creating a toxic mixture, known as the "strawberry milkshake of death", that destroys everything around it.
Both a warranty extension and lawsuit settlement have been major disappointments for owners.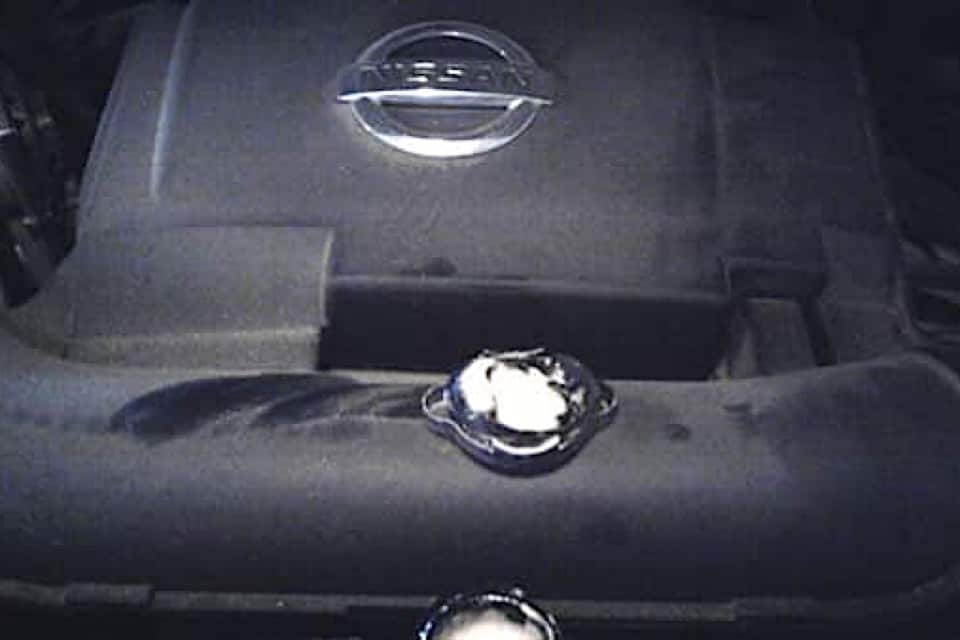 Automatic transmissions in certain 2005-2010 Nissan SUVs and Trucks are under attack from their radiators. Leaking coolant is mixing with transmission fluid through the cooler lines to create a toxic hell stew that irreversibly damages everything around it.
The widespread issue has prompted the North Carolina Consumers Council (NCCC), a consumer protection group, to plead that everyone avoid the 2005-2010 Frontier, Pathfinder, and Xterra at all costs.
The Strawberry Milkshake of Death ∞
Ruptured radiator cooler tanks are forcing coolant into the five-speed automatic transmission through the cooler lines. Not only does the radiator stop cooling the transmission, but the resulting slurry of coolant and transmission fluid eats valves, erodes seals and speeds up corrosion.
The liquid is known as the strawberry milkshake of death (SMOD) and it's not because it tastes good (please don't taste it).
Once you've got SMOD you're SOL, FWIW.
Reports of this problem happen as early as 60,000 miles, but the sweet spot appears to be around 110,000 miles. Which is important for reasons we'll cover in a moment.
The Useless Radiator Assembly Warranty Extension ∞
In October 2010, Nissan extended their radiator assembly warranty from 3 years / 36,000 miles to 8 years / 80,000 miles after reports from a "small percentage" of owners with internal cracks on the oil cooler tube.
There was confusion about whether the radiator warranty extension covered resulting damage to the transmission.
The warranty extension also meant Nissan could avoid a recall. Not only did the extension typically expire before the problem would occur, but Nissan wasn't held to the legal obligation of notifying owners that a recall would bring.
"It is one of the bigger transmission problems that we see. It is costly and it can cause an immediate failure," –Clarence Ditlow, Center for Auto Safety
The Lawsuit Settlement That Was Also a Major Disappointment ∞
Two years after the warranty extension, Nissan settled a class-action lawsuit regarding the coolant leak epidemic. As part of the settlement, Nissan extended their warranty again. And, just like last time, they managed to not cover the vast majority of complaints.
The warranty breakdown:
Up to 8 years/80,000 miles, whichever comes first, extended warranty coverage applies with no customer co-pay.
After 8 years/80,000 miles, whichever comes first, up to 9 years/90,000 miles, whichever comes first, extended warranty coverage applies with customer co-pay in the amount of $2,500.
After 9 years/90,000 miles, whichever comes first, up to 10 years/100,000 miles, whichever comes first, extended warranty coverage applies with customer co-pay in the amount of $3,000.
And if you're reading this and your car is still under 100,000 miles, first off – wow, congratulations. Second, don't get too excited because the deadline to file a claim has passed.
It's the final gut-punch in a raw deal for consumers.
"I always liked Nissan, and love my 2005 Pathfinder. Until coolant leaked into the transmission. I looked up online and saw all of the complaints on carcomplaints... Saw there was a class action suit which I do not qualify for since the time has passed. Called Nissan, they said since I'm over 100,000 miles I'm SOL. Cannot believe Nissan would treat loyal customers this way. Even with the warranty it only covers 800 dollars...and the other 3-4 thousand is on you. My family and I have bought 5 Nissans from the same dealer. Never again will we purchase a Nissan!!!" -- 2005 Pathfinder owner
Any Hope for a Recall Dashed ∞
In June 2012, NHTSA was petitioned by the NCCC to investigate the issue. The key to the petition was proving a safety defect existed, something Nissan has continually denied. NHTSA only forces automakers to issue recalls when there's a safety risk involved.
NHTSA found that the radiators are defective without a doubt.
"When examined under a microscope, cracks and fractures were observed at the lead points. The other three non-leaking transmission fluid cylinders were inspected under the microscope and five of the six transmission fluid port areas were cracked."
However, they didn't find that the majority of complaints represented a safety risk and closed their investigation. That means the only hope for a recall is up to Nissan. Cue the sad trombone.
The Warning Signs of Transmission Failure ∞
Some articles online claim that being aware of the proper warning signs may help prevent your Nissan from needing a rebuilt transmission. These warning signs are:
Heavy Vibration While Shifting
Heavy Vibration While Accelerating
Abrupt Stalling
Shuddering Noises
Car Doesn't Warm Up When Sitting
Owners who have had their radiator crack are claiming that even if you catch it early, your transmission is still doomed trouble due to this engineering / manufacturing defect. You can read their stories over at CarComplaints.com for the three Nissan models that are showing the defect:
Perhaps even more troubling is owners who have already had their transmissions "repaired" by an authorized Nissan dealer are still reporting catastrophic transmission failure. Through no fault of their own, Nissan owners who are out of warranty are left to cover the hefty repair bill, which can be over $4,500 when all is said and done.
Generations Where This Problem Has Been Reported
This problem has popped up in the following Nissan generations.

Most years within a generation share the same parts and manufacturing process. You can also expect them to share the same problems. So while it may not be a problem in every year yet, it's worth looking out for.
2nd Generation Frontier

Years

2005–2019

Reliability

38th of 54

PainRank™

14.81

Complaints

928

Learn more about the 2nd Generation Frontier

3rd Generation Pathfinder

Years

2005–2012

Reliability

49th of 54

PainRank™

34.19

Complaints

1510

Learn more about the 3rd Generation Pathfinder

2nd Generation Xterra

Years

2005–2015

Reliability

42nd of 54

PainRank™

17.47

Complaints

968

Learn more about the 2nd Generation Xterra
Further Reading
A timeline of stories related to this problem. We try to boil these stories down to the most important bits so you can quickly see where things stand. Interested in getting these stories in an email? Signup for free email alerts for your vehicle over at CarComplaints.com.
The North Carolina Consumers Council (NCCC) recommends that no-one buy a 2005-2010 Nissan Pathfinder, Frontier, or Xterra.

That would have been very helpful advice, say, 5 or 10 years ago. Next they might tell us the sun is very bright and they recommend not looking directly at it.

The radiators in these vehicles --- as most of you know by now --- are ticking time-bombs. They leak coolant into the transmission, killing it.…

keep reading

article "NCCC Tells Consumers to Stop Buying Certain Nissans"

Last October, Nissan extended their radiator warranty for what they called a "small percentage" of vehicles that may experience issues with coolant leaks.

Namely, how those coolant leaks seep into the transmission and render it useless.

While the automaker has offered an extended warranty for the radiators, the National Highway Traffic Safety Administration and other safety organizations have received numerous complaints from owners alleging they have spent thousands of dollars for transmission repairs because the added radiator warranty coverage only applied to vehicles with fewer than 80,000 miles.

That "small percentage" appears to be on the rise, as this problem regularly tops the CarComplaints.com trending problems list.

Because it's an extended warranty, and not a recall, Nissan isn't obligated to tell owners about it. And, for those who know, it isn't exactly clear if the radiator warranty extension covers damage done to the transmission by the leaking coolant.

keep reading

article "Radiators to Blame for Automatic Transmission Failures in Some of Nissan's Most Popular Trucks and SUVs"
OK, Now What?
Maybe you've experienced this problem. Maybe you're concerned you will soon. Whatever the reason, here's a handful of things you can do to make sure it gets the attention it deserves.
File Your Complaint

CarComplaints.com is a free site dedicated to uncovering problem trends and informing owners about potential issues with their cars. Major class action law firms use this data when researching cases.

Add a Complaint

Notify CAS

The Center for Auto Safety (CAS) is a pro-consumer organization that researches auto safety issues & often compels the US government to do the right thing through lobbying & lawsuits.

Notify The CAS

Report a Safety Concern

The National Highway Traffic Safety Administration (NHTSA) is the US agency with the authority to conduct vehicle defect investigations & force recalls. Their focus is on safety-related issues.

Report to NHTSA