Nissan Wanted An Automatic Emergency Braking (AEB) Lawsuit Tossed. It Didn't Work.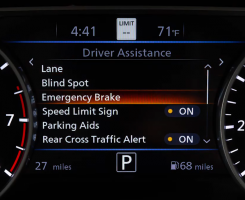 A lawsuit claiming Nissan's automatic emergency braking (AEB) system has dangerous defects will continue in court following a U.S. District Court judge tossing out the automaker's motion to dismiss.
AEB systems monitor the road and can apply the brakes if the system detects a collision is imminnent. But according to the lawsuit, Nissan's AEB detects items that aren't there and can randomly bring the car to a screeching halt.
The issue has been investigated by the government, petitioned by safety groups, and has resulted in at least one technical service bulletin (TSB).
Despite all of that, the lead plaintiff says Nissan continues to ignore complaints about AEB malfunctions.
Malfunctions in Nissan's AEB are causing vehicles to suddenly brake even when there's no obstructions on the road ahead. The sudden stops are creating dangerous situations that often lead to rear-end collisions.