You Can't Even Rely On Nissan's Sun Visors to Work Properly
Posted on

Tagged
Key Points
Multiple generations of Nissan vehicles have problems with the sun visors falling down while driving.
The issue is the visor arm is held in place by a cheap plastic bracket that is prone to snapping.
Despite the part being cheap, Nissan requires owners to buy an entirely new visor assembly to fix the issue for roughly $125.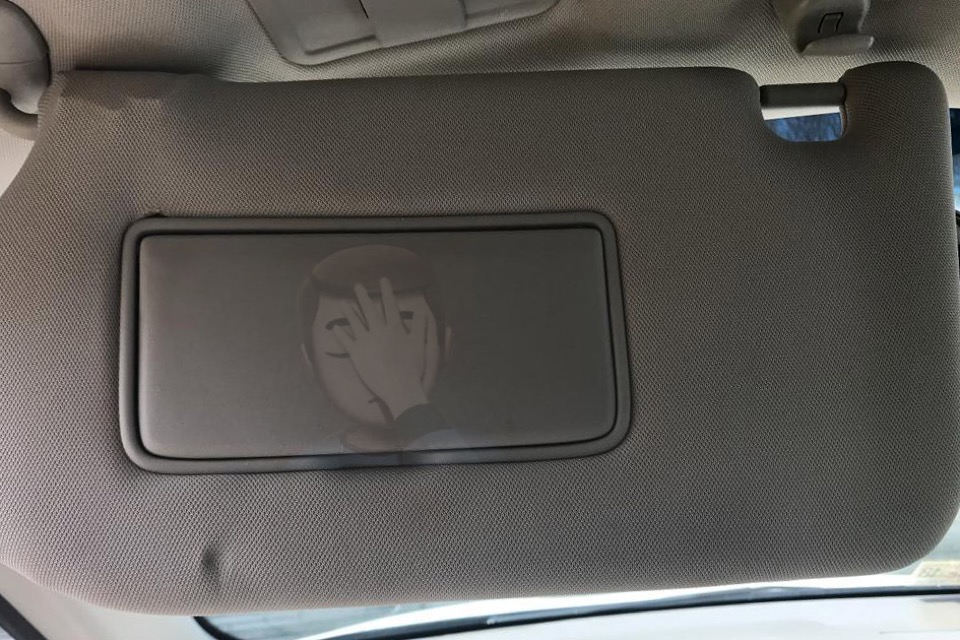 Cars are complicated and can break in many ways. So it's nice to have a couple things you can just rely on #working. Outside of the stalwart cup holder, I'd argue that another hero of the interior is the humble sun visor.
And yet Nissan found a way to make them crappy.
Certain generations of Nissan vehicles have sun visors that fall down after going over bumps, rounding corners, shutting doors, or just breathing too hard in its general direction.
Why Nissan's Visors Keep Falling Down ∞
The reason this happens is both simple and infuriating. The clip inside the roof that holds the end of the visor's arm is made of a cheap plastic and breaks.
The clip is designed to hold the visor in place and allow it to rotate under slight pressure. But when it breaks there's not a lot of holding, just a lot of rotating.
Head-scrathingly expensive to replace ∞
You might hear "cheap plastic clip" and think that means "cheap easy replacement," but Nissan doesn't just sell the clip. To fix the problem, owners need to buy an entirely new visor assembly that can run about $125.
Yes, one-hundred-and-twenty-five dollars.
Here are part numbers for for some of the most common vehicles with this problem:
Why you shouldn't pay someone to do it for you ∞
And Nissan dealerships will charge you for labor to replace the part, which is downright insuting when you realize how easy it is to replace yourself. Seriously, it's a 5-minute fix.
There are some DIY repairs out there ∞
If you don't want to shell out for an OEM replacement – and honestly, who could blame you? – some have taken to finding DIY solutions like this split washer and screw setup:
Any Hope of a Recall? ∞
While there are some legitimate visibility and distraction concerns, I wouldn't get your hopes up about a recall as the National Highway Traffic Safety Administration (NHTSA) is unlikely to deem this a safety issue and Nissan is even more unlikely to do the right thing.
One potential remedy is a class-action lawsuit leading to an extended warranty or reimbursements, similar to what happened for Honda Civic owners in Cooper v. American Honda Motor Co., Inc.,
If a related lawsuit is filed, we'll post it here.
Generations Where This Problem Has Been Reported
This problem has popped up in the following Nissan generations.

Most years within a generation share the same parts and manufacturing process. You can also expect them to share the same problems. So while it may not be a problem in every year yet, it's worth looking out for.
What Owners Say About This Problem
First the driver's side sun visor broke and would not stay up. I thought well I will pick one up from Nissan if not covered under warranty. They wanted over $125 for one visor. This is not even the visor with lights?! A month later the passenger side broke! I had to take them both down so that they were not flapping all over as we drove.
The driver side sun visor unexpectedly drops, blocking the driver's view. For me it completely obscures my view. This will happen randomly. The warranty does not cover the repair (repair costs in excess of $435 quoted to me). I have read pages and pages or online forums with people having the same problem
Both sunvisors keep falling down while driving. It is so obnoxious and can be dangerous because I can't see when it happens. I used to think that Nissans were reliable, but since this has happened...I will never buy one again
These VISORS absolutely SUCK!! I have already repaired them, and now they need to be replaced. I have read all of the comments by others and this is not acceptable to me. I am just starting the search for a new vehicle for my wife. Nissan will not be a part of the process this time. They don't want to deal with a poor production problem and unhappy consumers!
The cost to fix was 150 dollars each not including labor. What a mess the car is held together by glue and plastic. It seems to be assembled on the Lego line. What is the problem guys? You make top dollar and put your customers at risk?
OK, Now What?
Maybe you've experienced this problem. Maybe you're concerned you will soon. Whatever the reason, here's a handful of things you can do to make sure it gets the attention it deserves.
File Your Complaint

CarComplaints.com is a free site dedicated to uncovering problem trends and informing owners about potential issues with their cars. Major class action law firms use this data when researching cases.

Add a Complaint

Notify CAS

The Center for Auto Safety (CAS) is a pro-consumer organization that researches auto safety issues & often compels the US government to do the right thing through lobbying & lawsuits.

Notify The CAS

Report a Safety Concern

The National Highway Traffic Safety Administration (NHTSA) is the US agency with the authority to conduct vehicle defect investigations & force recalls. Their focus is on safety-related issues.

Report to NHTSA