For a while cracked radiators were the number one enemy of Nissan transmissions, but these days it appears the transmissions are their own worst enemy.
Nissan proudly introduced what they called "the first CVT for passenger cars"1 back in 2002. It received mixed reviews, although that's to be expected with a first-generation product. The most common complaints included difficulty accelerating, shaking / stuttering, running hot, and suddenly shutting down. Luckily, Nissan would go on to address most of those concerns…
I'm just kidding. Here we are 15 years later and those same complaints plague Nissan owners. Rather than ironing out the kinks, Nissan executives have apparently been too busy ironing out their stacks of cash.
What is a CVT?
A CVT uses a steel belt or pulley system to move gears in a continuous (ahhh), smooth motion. It's a concept that the Washington Post says makes a lot of sense:
"The idea behind CVTs is easy to understand: a heavy-duty drive belt (or chain) runs within a grooved pulley system with hydraulic actuators allowing the affective ratio to be infinitely varied within a range of ratios, seamlessly."
For anyone used to driving a car with fixed gear ratios, it's important to note that a CVT not only feels different, but it sounds different too. Many complaints about "CVT whine" are a byproduct of its design.
The Most Common Complaints about Nissan's CVT
I hope you take any marketing spiel with a grain of salt, but Nissan's glowing review of their CVT deserves a few tablespoons:
"[An] innovative transmission that offers smooth, seamless shifting, while tailoring the vehicle's output to your driving style."
But the reviews from actual owners are a lot less rosy. First, let's take a look at vehicles with CVT complaints on CarComplaints.com.
And now, let's look at the most common types of complaints.
Slow, Shuttering Acceleration
Low speed acceleration is a particular trouble-spot for this CVT. According to owners, their vehicles will shutter and shake while getting up to speed.
"Run away from this car! My transmission was reprogrammed at 12k miles. Drove well, no issues and all scheduled maintenance done regularly at the dealer. At 65k transmission started shuddering and then vehicle would stall and die in traffic, very dangerous. Vehicle was sent into dealership three separate times, for engine pulley, reprogramming, completely new ECM. Each time the car ran worse. The vehicle is the worst I have ever owned, and would never buy another Nissan due to this. — 2013 Altima Owner"
A Technical Service Bulletin (NTB05-084A) regarding hesitations while accelerating was released to Nissan service departments in November 2006. The TSB, which was written for the 2003-2007 Murano, tells mechanics to check for these conditions if an owner complains about hesitations:
The Service Engine Soon (SES) light is not illuminated on your gauge cluster.
Code P0868 is stored in the Transmission Control Module (TCM).
It Runs Too Hot
One of the reasons for all that shaking might be an overheating. Nissan has been accused of using an inadequate cooling system for their transmission.
As the CVT heats up it can vibrate excessively. And when it overheats it sends the car into fail-safe mode which limits engine RPMs as it tries to prevent damage.
This can leave drivers in a dangerous position, and is one of the complaints in a Sentra Xtronic Lawsuit.
Horribly Slow Response Time
Speaking of dangerous positioning, it's been reported that the CVT can take a long time to respond to input from the pedal.
CVTs are, by design, going to feel different when you cram the accelerator to the floor. While a geared transmission will typically burst off the line, a CVT has a much smoother (and slower) increase to maximum power.
But some say the CVT's sluggishness goes too far. Some go so far as to call it a safety hazard when trying to merge onto a busy road. Needless to say, it's not going to win you any friends with the people driving behind you.
"The car has had the same problem for several years. After driving 30+ minutes, it won't accelerate and makes a loud whining noise."
Beyond the Whine, This Thing is Loud
CVT whine is a common problem and not unique to Nissan vehicles. What is unique, however, is how much Nissan's CVTs tend to whine.
Oh, and then there's all that clanging and rattling too.
"The car would whine at high speeds / long trips and high temps in the summer. It got worse every summer and even would suddenly stop accelerating. I took the car into the dealer for 3 summers in a row. The first two summers they basically told me I was crazy because they could not reproduce the issue." — 2009 Altima owner
In the case of Kobe Falco, et. al., v. Nissan North America, Inc., and Nissan Motor Company, LTD, Nissan's defense team admitted the CVT was loud but that didn't indicate a defect. More on that case in a bit.
It Fails At Low Mileage
The most concerning issue is the all these problems lead to a short lifespan for the CVT.
The 2011 Versa, for example, has an average failure of 64,750 miles. The very popular 2013 Altima fails around 60,167 miles.
In fact the problem appears to be getting worse, because if you look at older model years with complaints about CVT failure they typically have a longer lifespan – like the 2008 Altima which has a much more reasonable (albeit still frustrating) average failure over 120,000 miles.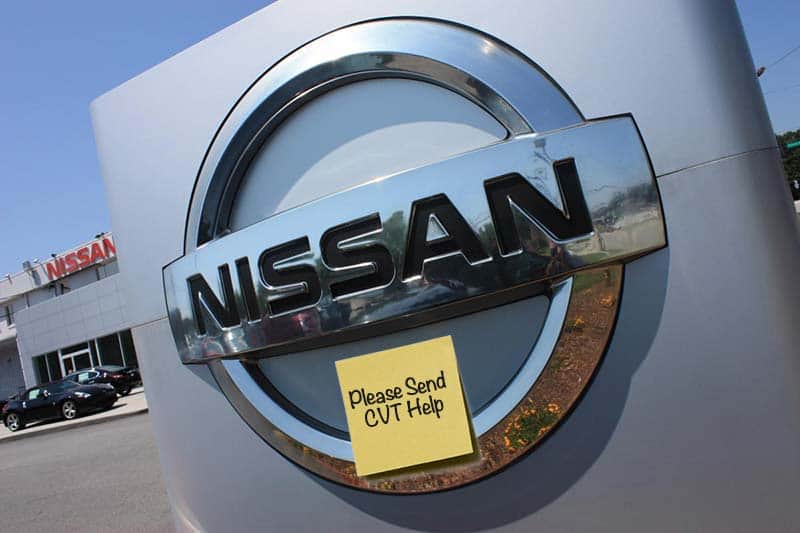 Nissan Has Extended Their CVT Warranty Before
Citing complaints from a "small percentage of owners of early models equipped with CVTs," Nissan extended their CVT warranty for certain vehicles. The extension essentially doubled previous coverage, bumping the powertrain warranty from 5 years/60,000 miles to 10 years/120,000 miles, whichever comes first.
This included:
2007-2010 Altima (Plus Altima Coupe and Altima Hybrid)
2007-2010 Maxima
2003-2007; 2009-2010 Murano
2008-2010 Rogue
2007-2010 Sentra
2007-2010 Versa (1.8SL)
Nissan also offered reimbursements on repairs, but that program ended on July 31, 2010.
For Everyone Else, There's Lawsuits
The extended warranty helps some, but leaves others seeking help. For those people, there's hope in the form of lawsuits.
2013-14 Pathfinder and Infiniti QX60 lawsuit
The first class-action lawsuit came in January 2015 and accused Nissan of putting defective CVTs in the 2013-14 Pathfinder. That lawsuit, Batista vs. Nissan North America, Inc, had three main points:
Nissan installed CVT transmissions with known defects, such as how the CVT belt slips and the CVT violently shakes when accelerating between 15–30mph.
Nissan knew about the problem and began developing "software counter-measures" but failed to warn consumers and continued to sell vehicles anyway.
Owners have been left with no choice but to pay for expensive repairs after the automaker refused reimbursements.
In October 2016, Nissan agreed to settle this CVT lawsuit which had grown to include the Infiniti QX60 and JX35 equipped with the FK-*k2 CVT. The automaker said they settled because they didn't want to spend years in court, not because they were admitting to any defect.
The settlement gave 2013-14 Nissan Pathfinder and Infiniti QX60/JX35 owners a transmission software update plus it extended the transmission warranty to 24 months or 24,000 miles (conditions apply, of course).
Additionally, Nissan paid for $3.75 million in attorney fees2. Visit nissancvtlitigation.com for more information.
2014 Sentra lawsuit
In April 2017, a lawsuit was filed in New Jersey for 2014 Sentra owners who were tired of the shaking, jerking, and sudden downshift problems. The lawsuit was filed by a garbage collection company which is so appropriate considering how trashy these transmissions have become.
The lawsuit states the company had to replace their transmission four times:
The 2007-2010 Sentras were subject to a customer service warranty program, however other Sentras also have the same problem.
Despite knowing the defects, Nissan continued to sell and tout their CVTs as superior to the competition. Specifically, how they have "fewer moving part to reduce friction and heat" which make the transmission last longer.
This case is pending.
2012-2017 Sentra Xtronic Overheating Lawsuit
In September, 2017 Nissan was accused of designing Xtronic CVTs withcooling systems too small to handle the job.
The lawsuit,  Waldo Leyva, et al. v. Nissan North America, Inc. , was filed in the U.S. District Court for the Central District of California.
To CVT or Not to CVT? That is A Question.
While some manufacturers, like Nissan and Subaru, have embraced CVT technology, others (Chrysler and Ford) have tried and dropped CVTs from their lineup. Let's take a quick look at the advantages and disadvantages.
Advantages of a CVT
Super smooth to drive — a traditional automatic can hunt for gears and sometimes jerk or hesitate. CVTs are supposed to avoid this issue.
No more shift-shock — the momentary loss of power you get while accelerating with traditional gears.
Constant power — because there's no more more gear hunting or shift-stock, the driver is given consistent power while accelerating. Once again, that's how it's supposed to work.
Simpler design, fewer moving parts — this reduces friction and heat, which are a deadly combo for mechanical parts. Reduced exposure should help the transmission last longer.
Better miles per gallon — A CVT provides better fuel efficiency in two ways. First, it keeps the engine in the sweet spot while accelerating (more efficient) and second it's lighter than a traditional transmission (less weight).
This day and age, the MPG advantage might be why your next car will probably have a CVT. CVTs offer the same fuel-efficiency gains as 8 and 9-speed automatics, but cost much less.
I'll give Nissan the MPG boost, but you'll notice that the most common complaints seem to indicate that Nissan's CVT doesn't offer the traditional advantages. In addition, they come with all of the traditional disadvantages.
Disadvantages of a CVT
It's boring — no doubt, if you grew up driving a manual transmission a CVT is going to put you to sleep. The steady acceleration and lack of revs can be seen as a negative depending on how you look at it.
It's noisy — CVTs can sound weird to owners who often complain about the whirring or humming noise it makes. There's also complaints about how the engine no longer "feels connected" to the sensation of speed.
They can feel sluggish — Once again, depending on how you look at it, a CVT can feel as if its "slipping" when compared against a traditional automatic.
It's more expensive to replace — CVTs offer an up-front cost advantage to automakers which should, in turn, reduce the sticker price of new vehicles. However, they're usually more expensive in upkeep and to replace. CVTs aren't sealed and might require costly fluid changes.